Xpert-Timer Mobile is a project time tracking software in order to keep track of the time spent on certain tasks or projects. The software is a perfect fit for people who need to know how much time they spent on certain tasks in order to bill their clients properly.
There are four available levels to organize your projects:
1) The clients
2) The main projects
3) The sub projects
4.) The tasks (To-Dos)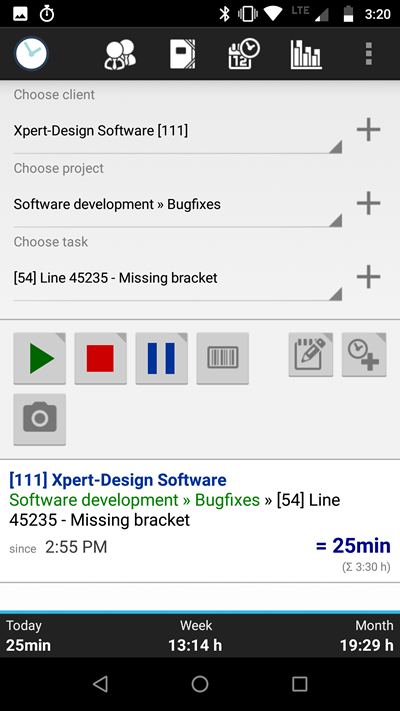 The client and subprojects as well as the tasks are not obligatory. You could just enter a single project name and start tracking your time. The sub project option needs to be activated in the configuration as it's not set per default.
Please note, that Xpert-Timer Mobile is a project or task based time tracking software. It does not support any holiday, overtime or vacation entries.
Usecases
Here are a couple of situations, where Xpert-Timer is used:
"The consultant":
A consultant is visiting a client and needs to know exactly how much time he spent at the clients' office. While being at the office, the consultant enters comments to the timestamp in order to create a history of tasks for billing.
"The sales representative":
In order to keep track of all visited clients and the outcome of the appointment, you can log every visit in Xpert-Timer and add comments to the timestamps. At the end of the working day, you can send an email report to the headquarters, so they can also see what you've worked on over the day.
"The technician":
You work for multiple clients on different projects? Especially if you need to go to your clients' office in order to fix problems, you can easily track every billable minute for your client. If you add comments to every timestamp, there won't be any more questions after billing a client.
"For self-control":
Xpert-Timer MOBILE is also perfect for self-control. You want to know, what you work on over the day, or how much time you spend riding your bike, mowing the lawn, watching TV? Just create any project in Xpert-Timer Mobile and start tracking your time.
Overview of functions
All buttons with a grey upper right corner hold a long click function. Press and hold in order to activate the function.